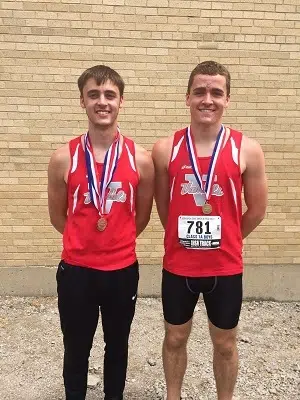 Today—May 28th, 2016—will go down as, without question, one of the greatest days in Vandals Athletics history. At the Class 1A State Track and Field meet today, the Vandals claimed 2 state championships and a 3rd place medal, all courtesy of two individuals.
Vandals Senior Ethan Meyer capped off his high school track career with a state championship.  Ethan in the triple jump finals today reached a distance of 45'11", beating second place finisher Dazhee Horton of Momence by 2 full inches.
Vandals Junior Curtis Gordon brings home two medals on the day. Curtis Gordon is the Class 1A State Champion in Pole Vault.  Curtis cleared 16′ to take the state championship over his closest rival by a healthy distance (Nathan O'Connor of Tremont was second at 15'3″). Curtis Gordon also brought home a 3rd place medal in the 110m High Hurdles. Curtis finished with a time of 14.95 seconds.
Meanwhile, the great days by Gordon and Meyer helped the Vandals finish in the top 7 as a team in the Class 1A State Track and Field Meet. The Vandals end up with 27 points to tie with Arthur-Lovington-Atwood-Hammond for 6th place. New Berlin took the Class 1A Team Title.