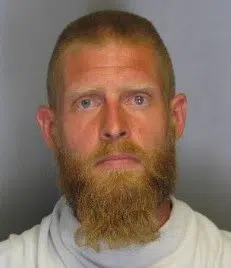 This information released today from the Illinois State Police

WANTED

FOR ATTEMPTED MURDER OF A POLICE OFFICER

DRACY C. PENDLETON

***ARMED AND DANGEROUS***

On May 7, 2016 at approximately 10:45 p.m., a Mahomet Police Officer was involved in a shooting with Dracy "Clint" Pendleton, 35. The Officer and Pendleton exchanged gunfire and Pendleton fled the scene. The officer was shot in the arm and it is believed Pendleton received wounds (possibly a gunshot) during the confrontation, but it is unknown to what degree. Pendleton may seek treatment for his injuries at a medical facility. Pendleton is believed to be armed with an AK- 47.

The Champaign County State's Attorney's Office has issued an arrest warrant for Pendleton for the charge of Attempted Murder of a Police Officer. Pendleton is described as a White, male, 35 years old, 5'10″, 155 lbs, with blue eyes and blonde hair. Pendleton's bond is set at $5 million dollars.

Pendleton has possibly stolen a 2007 white GMC pick-up truck bearing Illinois registration number 165533B. The above picture is an actual photo of the truck.

Anyone with information is asked to immediately call the Illinois State Police, at 618-542-1483, or dial 911.
###
All subjects are presumed innocent until proven guilty in a court of law.