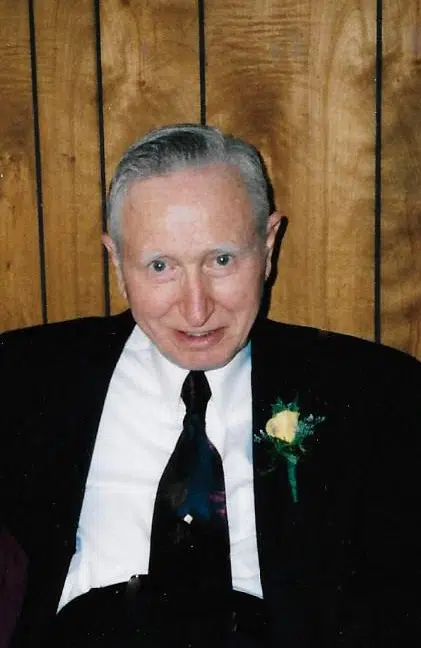 Joe R. Nave, 92 of Vandalia, Illinois, formerly of Ramsey, IL, died on Sunday, May 1, 2016, at Fayette County Hospital, Vandalia, Illinois.
Services will be held at 11 am, Wednesday, May 4, 2016, at First Baptist Church, Ramsey, IL, with Rev. Jeff Shouse, officiating. Burial will be in Ramsey Cemetery, Ramsey, IL,  with Military Rites. Visitation will be held from 6-8 pm, Tuesday, May 3, 2016, and 10-11 am * 1 hr. before service Wednesday, May 4, 2016, all at the Church. Memorials: First Baptist Church, Ramsey, IL. Miller Funeral Home, Ramsey, IL is in charge of arrangements. Online memories and condolences may be shared with the family @ www.millerfh.net.
He was born March 21, 1924, in Bayle City, IL,  the son of Francis Ray and Thelma (Brown) Nave. Married Vivian Ulbright October 19, 1947, in Ramsey, IL. He was a retired Teller for First National Bank in Ramsey, IL, a member of First Baptist Church, Anderson – Scroggins American  Legion Post 460, all of Ramsey, IL and a WWII Army Veteran. Joe was well known for his beautiful  hand crafted wooden toys.
He is survived by: Wife: Vivian Nave; 2 daughters: Judy Roberts & David and Sharon Stanbery & Rick, all of Vandalia, IL; Brother: Lee Nave & Carol of St. Louis, MO; 3 sisters: May Belle Jenkins, St. Charles, MO, Arlene Hoffman & Wendell, Reeds Spring, MO and Nancy Paradee & Mike of Ramsey, IL.; Grandchildren: Matt, Darren, Brooke & Marisha; 8 Great Grandchildren.
He was preceded by: Parents; and 1 Brother, Eugene Nave.