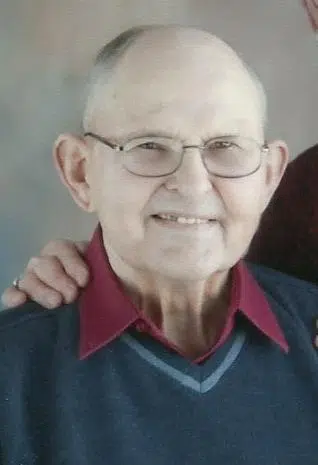 Donald C. Ehrat, 87, of rural Shobonier, passed away at 5:00pm, Saturday, April 9, 2016 at Fayette County Hospital, Vandalia.
Funeral services will be held at 11:00am, Wednesday, April 13, 2016 at Augsburg Immanuel Lutheran Church, Shobonier with Pastor Josh Frazee officiating. Visitation will be held from 6:00-9:00pm, Tuesday, April 12, 2016 at Augsburg Immanuel Lutheran Church, Shobonier and also 1 hour prior to services at the church Wednesday. Burial will follow in Augsburg Immanuel Lutheran Church Cemetery, Shobonier. Memorials may be made to Augsburg Immanuel Lutheran Church, American Parkinson Disease Association, or Fayette County Hospital Long Term Care Activity Fund. Arrangements by Hohlt & File Funeral Home, Vandalia; online condolences available at www.hohltandfilefh.com
Don was born June 13, 1928 at home in rural Shobonier, the son of Albert and Ella (Beckmeier) Ehrat. He attended the Heckathorn and Augsburg Schools until 8th Grade. He entered into the US Army in the fall 1954, discharged in the fall of 1956. On January 19, 1963 he married Emily M. Summann at Augsburg Immanuel Lutheran Church. Together he and Emily continued on the family business, being 3rd generation dairy farmers. Don was a lifetime member of Augsburg Immanuel Lutheran Church, member of American Legion Post 380, and a member of the Illinois Holstein Association; he was once awarded the Senior Breeder Award. Don loved to bowl and over the years he was active in leagues at the Vandalia Bowling Alley; he was an avid St. Louis Cardinal Baseball fan, so much so that he and Emily enjoyed going to Jupiter, FL to watch the Cardinals during Spring Training. But more than the Cardinals, he loved his grandchildren; you would often see him in the stands watching their sporting events or at their music recitals. He was a wonderful grandfather.
Don is survived by his wife Emily Ehrat of Shobonier; sons Mark Ehrat and wife Lisette of Shobonier and Keith Ehrat and wife Sandy of Shobonier; grandchildren Braden Ehrat of Champaign, Ella Ehrat and fiancé John Doyle of Decatur, and Paige Ehrat of Shobonier; sister Marcella and husband Sherwin Albrecht of St. Paul; sisters-in-law Eileen Ehrat of St. Peter and Valeria Ehrat of Vandalia; brother-in-law Charles Kruenegel of Shobonier and sister-in-law Ruth Summann of Shobonier.
He was preceded in death by his parents, brothers Omar Ehrat and Fred Ehrat, sister-in-law Iris Kruenegel, and brother-in-law Paul Summann.