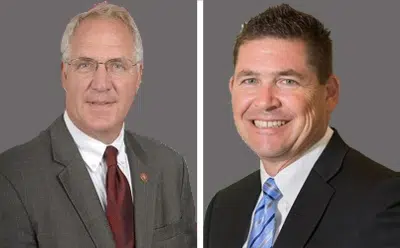 The two candidates for the Republican nomination for the 15th Congressional District held a spirited and, at times, heated debate on Saturday afternoon in the WKRV/WPMB studios.  When talking about different top issues for the 15th Congressional District, Congressman John Shimkus talked about Governor Bruce Rauner's fight for worker's compensation reform.  And, Shimkus questioned McCarter leaving the Governor's fight.
McCarter responded first by saying he has been in on the fight for worker's comp reform since he became a State Senator in 2009.  And, McCarter said he was perplexed with the Governor's endorsement of Shimkus in this race.
If you missed the debate on Saturday, we still have a few chances for you to hear again.  A copy is available for download this morning under Vandalia On Demand on our website at www.vandaliaradio.com and we will also have a replay of the debate today during starting just after 12 pm on 104.7 FM/AM 1500 WPMB.