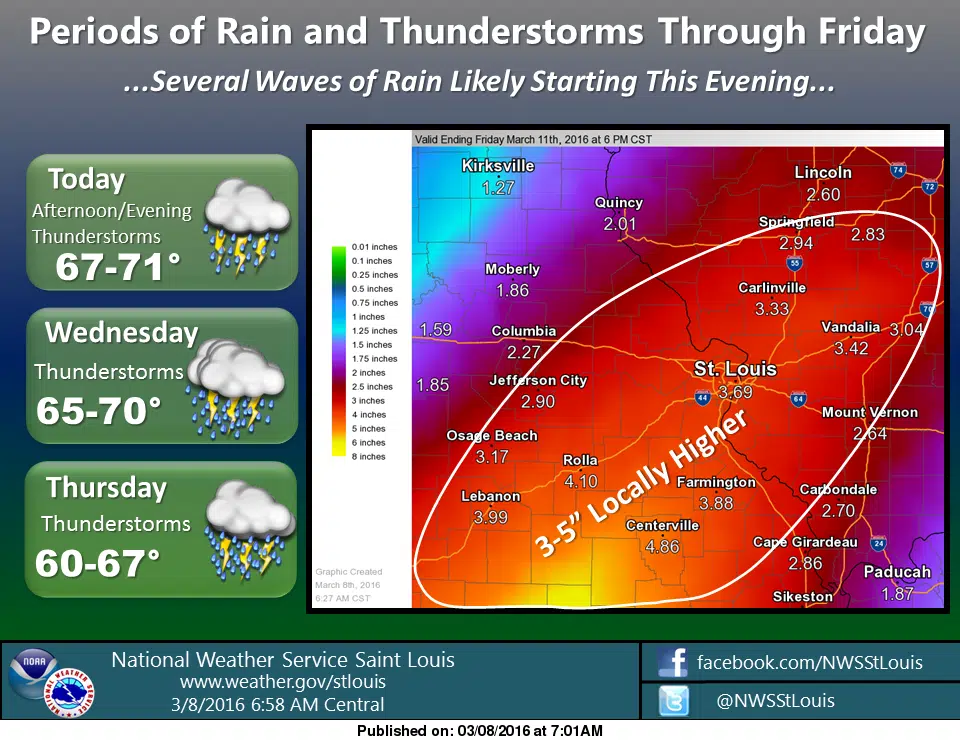 …HEAVY RAINFALL AND FLOODING POSSIBLE THIS WEEK…
A PROLONGED PERIOD OF MODERATE-HEAVY RAINFALL IS POSSIBLE FOR PARTS OF THE AREA THIS WEEK…MAINLY FROM WEDNESDAY THROUGH THURSDAY. RAINFALL AMOUNTS FOR THIS TIME PERIOD FOR NEARLY THE ENTIRE AREA ARE EXPECTED TO BE IN THE 2-4 INCH RANGE WITH LOCALLY HIGHER AMOUNTS POSSIBLE. THERE IS STILL SOME UNCERTAINTY AS TO WHERE THE HEAVIEST RAINFALL TOTALS WILL OCCUR…BUT IT CURRENTLY APPEARS THAT SOUTHEAST AND EAST CENTRAL MISSOURI MAY HAVE THE GREATEST AMOUNTS OF 3 TO 4 INCHES.
CHANCES OF MEASURABLE RAINFALL CONTINUE THROUGH THE WEEKEND WITH ADDITIONAL AMOUNTS OF 1-2 INCHES POSSIBLE. HOWEVER…FORECAST UNCERTAINTY IS HIGHER FOR LATE THIS WEEK INTO THE WEEKEND.
THE SOIL MOISTURE ACROSS THE REGION IS ABOVE AVERAGE…WHILE LOCAL RIVERS AND CREEKS ARE AT NEAR NORMAL LEVELS AND FLOW. THERE ALSO REMAINS A LACK OF VEGETATION AS WE TRANSITION OUT OF THE WINTER SEASON…WHICH INCREASES THE POTENTIAL FOR RUNOFF FROM EXCESSIVE RAINFALL. THESE ANTECEDENT CONDITIONS…COMBINED WITH THE POTENTIAL OF VERY HIGH RAINFALL TOTALS…COULD LEAD TO RIVER FLOODING AS WELL AS FLASH FLOODING IN FLOOD PRONE AREAS.
THOSE WITH INTERESTS ALONG AREA RIVERS SHOULD STAY TUNED TO THE LATEST WEATHER AND RIVER FORECASTS FROM THE NATIONAL WEATHER SERVICE IN ST. LOUIS.