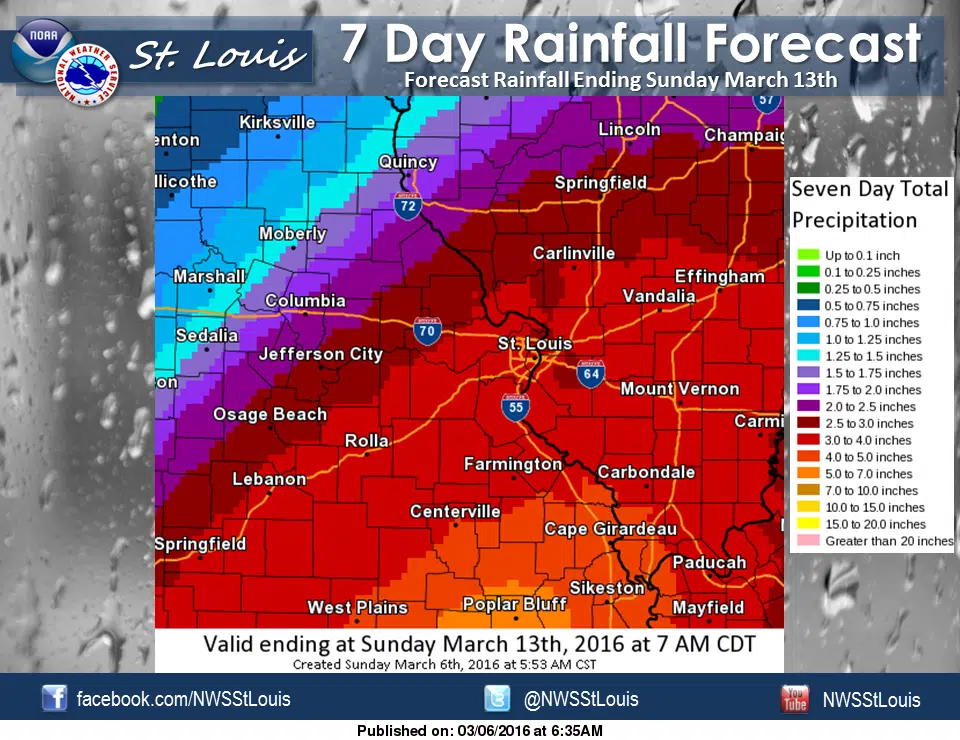 Heavy rain looks to be on the way for the area.  At least according to their latest map, 
The NWS in St. Louis is calling for 3 to 4 inches of rain here over the next 7 days.
Below is more information on the upcoming weeks weather. 

..HEAVY RAINFALL AND FLOODING POSSIBLE NEXT WEEK...

A PROLONGED PERIOD OF HEAVY RAINFALL IS POSSIBLE FOR PARTS OF THE
AREA NEXT WEEK. THE LATEST WEATHER INFORMATION IS SHOWING TWO
WAVES OF HEAVY RAIN. THE FIRST IS EXPECTED TUESDAY EVENING...AND
THE SECOND WAVE IS EXPECTED WEDNESDAY INTO WEDNESDAY EVENING...AND
COULD EVEN LAST INTO THURSDAY. THE HEAVY RAIN TUESDAY NIGHT NOW
LOOKS FURTHER NORTH THAN PREVIOUSLY EXPECTED...ACROSS PARTS OF
CENTRAL AND NORTHEAST MISSOURI INTO WEST CENTRAL ILLINOIS.
HOWEVER THE SECOND AND HEAVIER WAVE IS STILL EXPECTED TO AFFECT
THE ST. LOUIS METRO AREA AND ALL COMMUNITIES ALONG AND SOUTH OF
INTERSTATE 44 IN MISSOURI AND INTERSTATE 70 IN ILLINOIS. WIDESPREAD
RAINFALL AMOUNTS OF 4 TO 7 INCHES ARE POSSIBLE...WITH LOCALLY
HIGHER AMOUNTS.

THE SOIL MOISTURE ACROSS THE REGION IS ABOVE AVERAGE...WHILE
LOCAL RIVERS AND CREEKS ARE AT NEAR NORMAL LEVELS AND FLOW. THERE
ALSO REMAINS A LACK OF VEGETATION AS WE TRANSITION OUT OF THE
WINTER SEASON...WHICH INCREASES THE POTENTIAL FOR RUNOFF FROM
EXCESSIVE RAINFALL. THESE ANTECEDENT CONDITIONS...COMBINED WITH
THE POTENTIAL OF VERY HIGH RAINFALL TOTALS...COULD LEAD TO RIVER
FLOODING AS WELL AS FLASH FLOODING IN FLOOD PRONE AREAS.

THOSE WITH INTERESTS ALONG AREA RIVERS SHOULD STAY TUNED TO THE
LATEST WEATHER AND RIVER FORECASTS FROM THE NATIONAL WEATHER
SERVICE IN ST. LOUIS.