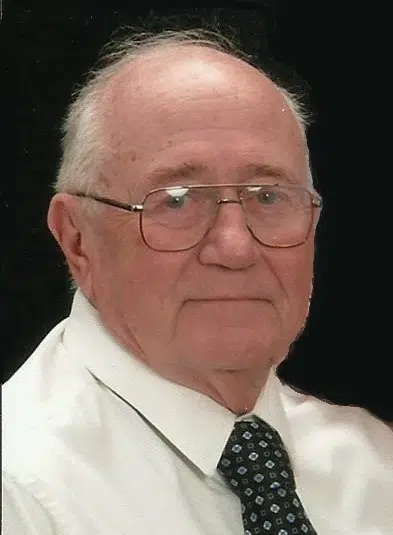 Robert "Bob" Hayner, 81, of Vandalia passed away at 11:30am, Saturday, January 23, 2016 at Barnes Jewish Hospital, St. Louis, MO.
A Mass of Christian Burial will be held at 10:00am, Thursday, January 28, 2016 at Mother of Dolors Catholic Church in Vandalia with Rev. Fr. Barry Harmon and Rev. Fr. Bob Porter officiating.  Visitation will be held from 5:00-7:00pm, Wednesday, January 27, 2016 at Mother of Dolors Parish Hall, Vandalia, IL (Across from Mother of Dolors Catholic Church).  Burial will be in Mother of Dolors Catholic Cemetery inside Fairlawn Cemetery, Vandalia, IL.  In lieu of flowers memorials may be made to Mother of Dolors Catholic Church or Charity of Choice.  Arrangements by Hohlt & File Funeral Home, Vandalia; online condolences available at
Robert was born April 1, 1934 in Oak Lawn, IL, the son of George and Victoria Hayner.  He attended St. Mary's University earning a Bachelor's Degree in Business, during college he met his soon to be wife; he and Marlys A. Cummings were married April 13, 1957 in Oelwein, Iowa.  Bob was drafted into the US Army and served from 1957-1959.   Bob started working for Crane Packing and was transferred to Vandalia to work as a Production Control Manager; he retired in 1994.  Bob was a member of Mother of Dolors Catholic Church in Vandalia; and an active member of the Knights of Columbus Council #4630, while with the Knights of Columbus Bob was inducted into the Knights of Columbus Hall of Fame for his work with Caring and Sharing; Bob and Marlys were very instrumental in forming the Fayette County Caring and Sharing.
Robert Hayner is survived by his wife Marlys of Vandalia; son Stephen Hayner of Chiloquin, OR; daughters Teresa Hayner of St. Louis, MO, Susan and husband Jeff Price of O'Fallon, and Karen and husband Robert Bauman of Belleville; brother George Hayner of Oswego, IL; sister Mary Ann Conner of Romeoville, IL; and five grandchildren Evan, Marian, and Lauren Price and Luke and Ben Bauman.
He was preceded in death by his parents, sons Robert and Michael Hayner, and daughter-in-law Carmen Hayner.