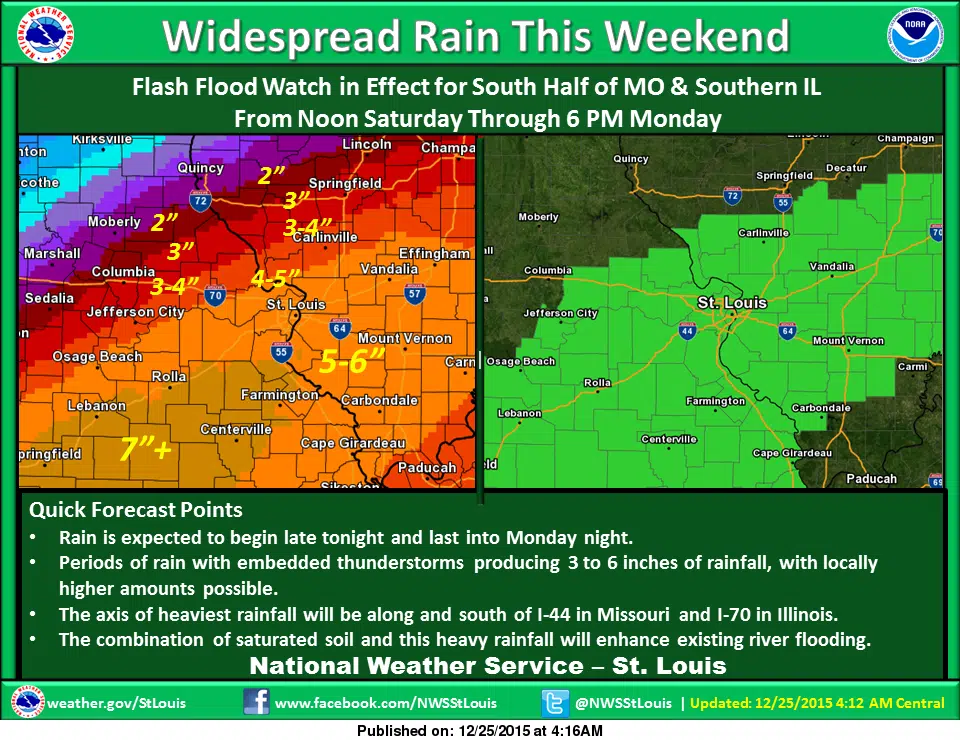 …FLASH FLOOD WATCH IN EFFECT FROM SATURDAY AFTERNOON THROUGH MONDAY AFTERNOON…
THE NATIONAL WEATHER SERVICE IN ST LOUIS HAS ISSUED A
* FLASH FLOOD WATCH FOR PORTIONS OF ILLINOIS AND MISSOURI… INCLUDING THE FOLLOWING IN …ILLINOIS…BOND IL…CALHOUN IL…CLINTON IL…FAYETTE IL…GREENE IL…JERSEY IL… MACOUPIN IL…MADISON IL…MARION IL…MONROE IL…MONTGOMERY IL…RANDOLPH IL…ST. CLAIR IL AND WASHINGTON IL. IN MISSOURI…CALLAWAY MO…COLE MO…CRAWFORD MO…FRANKLIN MO… GASCONADE MO…IRON MO…JEFFERSON MO…LINCOLN MO…MADISON MO…MONTGOMERY MO…OSAGE MO…REYNOLDS MO…ST. CHARLES MO… ST. FRANCOIS MO…ST. LOUIS CITY MO…ST. LOUIS MO…STE. GENEVIEVE MO…WARREN MO AND WASHINGTON MO.
* FROM SATURDAY AFTERNOON THROUGH MONDAY AFTERNOON
* PERIODS OF RAIN WITH EMBEDDED THUNDERSTORMS WILL PRODUCE 3 TO 6   INCHES OF RAINFALL FROM SATURDAY AFTERNOON THROUGH MONDAY   AFTERNOON. LOCALLY HEAVIER AMOUNTS ARE POSSIBLE.
* THIS HEAVY RAINFALL MAY RESULT IN FLASH FLOODING OF LOW LYING OR   POOR DRAINAGE AREAS…AND SMALLER CREEKS AND STREAMS. SIGNIFICANT   RISES ON LARGER STREAMS AND RIVERS ARE EXPECTED.