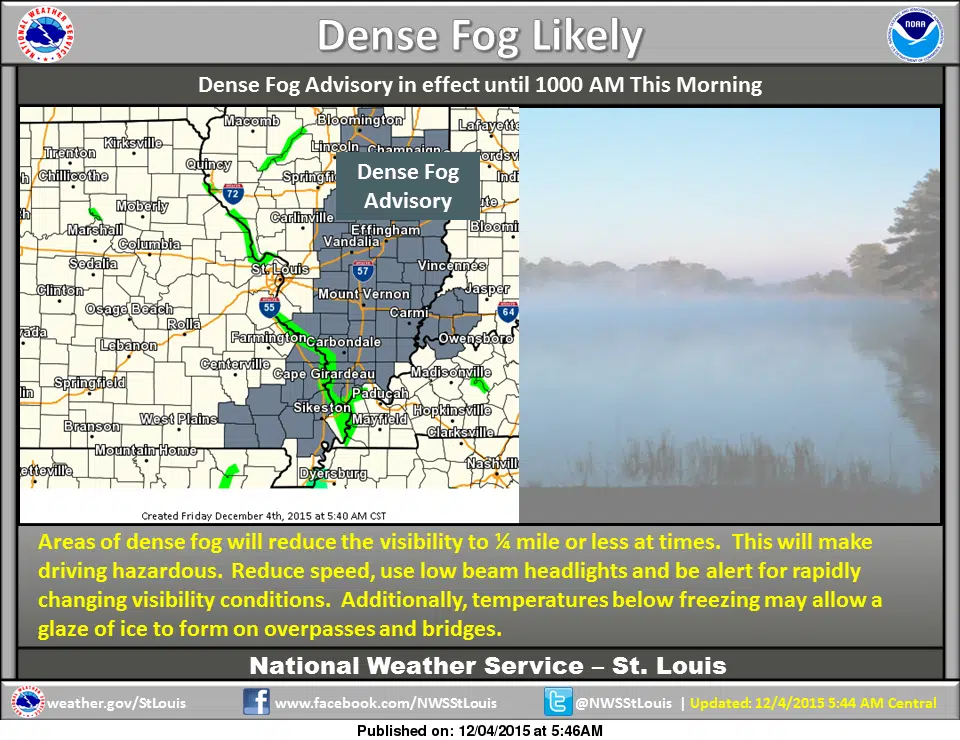 THE NATIONAL WEATHER SERVICE IN ST LOUIS HAS ISSUED A DENSE FOG ADVISORY…WHICH IS IN EFFECT UNTIL 10 AM CST THIS MORNING.
* TIMING…DENSE FOG WILL DEVELOP OVER THE AREA BEFORE SUNRISE.
* VISIBILITIES…ONE QUARTER MILE OR LESS AT TIMES.
* IMPACTS…RAPID CHANGES IN VISIBILITY WILL CAUSE HAZARDOUS   DRIVING CONDITIONS. WITH TEMPERATURES AT OR BELOW FREEZING…   THERE IS A CHANCE THAT A LIGHT GLAZE OF ICE COULD FORM ON   ELEVATED SURFACES INCLUDING BRIDGES AND OVERPASSES.
PRECAUTIONARY/PREPAREDNESS ACTIONS…
A DENSE FOG ADVISORY IS ISSUED WHEN DENSE FOG WILL SUBSTANTIALLY REDUCE VISIBILITIES…TO ONE-QUARTER MILE OR LESS…RESULTING IN HAZARDOUS DRIVING CONDITIONS IN SOME AREAS. MOTORISTS ARE ADVISED TO USE CAUTION AND SLOW DOWN…AS OBJECTS ON AND NEAR ROADWAYS WILL BE SEEN ONLY AT CLOSE RANGE.