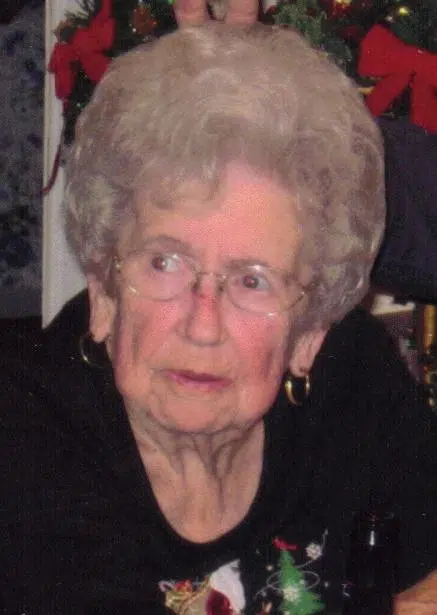 Ruth P. Benson, 92, of Vandalia, Illinois, passed away Sunday, November 29, 2015, at Vandalia, IL.
Services will be held at 11:00 AM, Thursday, December 03, 2015, at Miller Funeral Home, Vandalia, IL, with Rev. Kurt Simon, officiating. Burial will follow at Fairlawn Cemetery, Vandalia, IL. Visitation will be held from 6:00 PM to 8:00 PM, Wednesday, December 02, 2015, at Miller Funeral Home, Vandalia, IL. Memorials: First Presbyterian Church, Vandalia, IL. Miller Funeral Home, Vandalia, IL, is in charge of arrangements. Online memories and condolences may be shared with the family at www. millerfh.net.
She was born April 06, 1923, in Ellis Grove, IL, the daughter of James Perry & Edith Christina (Rodewald) Flynn. Married Harry Donald Benson on November 05, 1944, Vandalia, IL, he passed away November 12, 1993. Ruth was a former clerk at Denny's Dept. Store and a Deli Clerk at Harmon's IGA; a Member of First Presbyterian Church; American Legion Auxiliary, Women of the Moose and Vandalia Eagles Club #3901, all of Vandalia, IL.
She is survived by: Sons – Warren Benson & Lisa, Vandalia, IL and Donald "Donnie" Benson, Clinton, IL; 10 Grandchildren & 14 Great Grandchildren.
Preceded in death by: Parents; Husband; 2 Infant Brothers; Sister – Nora I. Flynn, 2001.