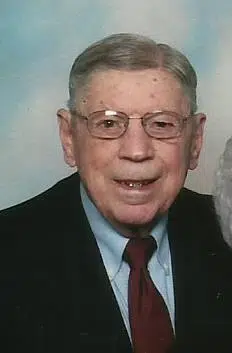 Charles Edward Lawler, 96, of Morton, IL formerly of Vandalia passed away on Wednesday, November 25, 2015 at OSF St. Francis Medical Center, Peoria, IL.
Services for Mr. Lawler will be held at 2:00pm, Saturday, November 28, 2015 at the First Presbyterian Church, Vandalia with Rev. Kurt Simon officiating Visitation will be held one hour prior to services at the church.  Burial will follow in Fairlawn Cemetery, Vandalia with Military Rites accorded at graveside by Crawford-Hale American Legion Post # 95, Vandalia, IL and Brownstown VFW Post #9770. Memorials may be made to the First Presbyterian Church of Vandalia.  Arrangements by Hohlt & File Funeral Home, Vandalia, online condolences available at www.hohltandfilefh.com
Charles was born November 12, 1919 in Vandalia, the son of James Andrew and Bessie May (Stout) Lawler.  He graduated from Vandalia High School in 1937 and married Glenda Meredith Lawler on April 1, 1948 in Vandalia. He served in the US Army during WWII and the US Air Force during the Korean Conflict.  In 1971, he was presented with the Distinguished Citizen Award by the Vandalia Jaycees in recognition of his many years of work in youth activities in the Vandalia Community and in 1994, was inducted into the Vandalia High School Hall of Fame as a member of the 1936 Varsity Basketball Team.  Charles retired from working as a Letter Carrier for the United States Postal Service.  He was a member of the First Presbyterian Church of Vandalia and Crawford-Hale American Legion Post # 95.
Charles is survived by his wife Glenda of Morton, IL; daughter Nancy Jane Lawler Meyer of Mapleton, IL; son Thomas Charles Lawler (Doris) of Davenport, IA; grandchildren Meredith Meyer Hendel, Michelle Meyer Messman (Chad) all of Mapleton, Gretchen Lawler of Cedar Rapids, IA, and Todd Lawler (Rachel) of Davenport, IA; great grandchildren Wyatt Hendel, Kallie Hendel and Riddick Messman of Mapleton, and Mya Lynn Lawler of Davenport, IA; step great grandchildren Conner and Taylor Messman of Mapleton.
He was preceded in death by his parents and four brothers Granville, Sidney, Philip, and Harold