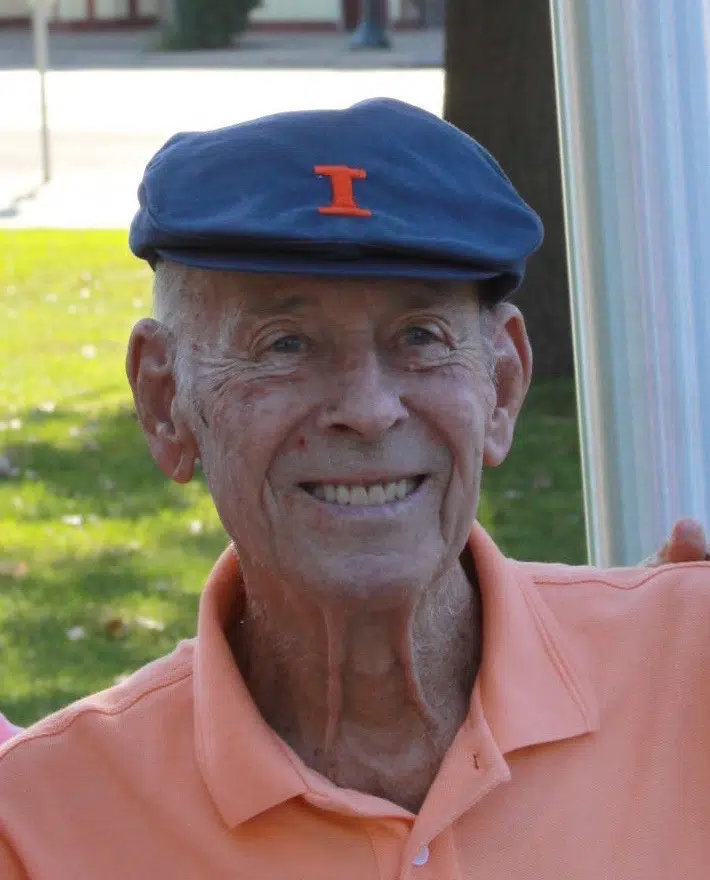 Wayne E. Tipsword, 87, of Effingham, died at 11:24 p.m. on Sunday, November 22, 2015 at Lakeland Rehabilitation and Health Care, Effingham.
Funeral Services will be at 2:00 p.m., Saturday, November 28, 2015 at Gieseking Funeral Home, Altamont with Fr. Marek Kasperczuk officiating. Burial will follow at Pleasant Grove Cemetery, Moccasin. Visitation will be from 11:00 a.m. until service time on Saturday. Memorials may be made to HSHS Homecare and Hospice (www.hshshospice.org).
Wayne was born on Friday, February 10, 1928 at home in Moccasin, rural Effingham County, IL to Ralph R. and Winnie (Patterson) Tipsword. He served in the U.S. Navy and then he married Mary Arlene Rhodes on August 23, 1949. After being married forever or for over 66 years, Wayne joined Mary twenty-six days after her death because he couldn't keep granny waiting on their dance. He retired from the Illinois Department of Transportation where he had worked as a Landscape Architect and he was the co-proprietor of Tipsword Land Corporation and owner of Tipsword Christmas Tree Farm. He was a member of Sacred Heart Catholic Church, a life member of the American Legion Post #120, member of the V.F.W. Post #1769, and Elks Lodge #1016, all of Effingham.
He is survived by; son, Andrew (Lisa) Tipsword of Pittsfield; daughters, Kathy Funk Lilly of Johnstown, Ohio, Karen (Leroy) Stroud of Effingham, Jane Tipsword of Springfield, and Arlene (Marvin) Kocher of Hugo, Minnesota; brothers, Jim 'J.B.' (Norma) Tipsword of Moccasin and Garry (June) Tipsword of Beecher City; brothers-in-law, Jack Rhodes of Yuma, Arizona and Tom (Mary Jane) Rhodes of Marshall; sisters-in-law, Betty Tipsword of Blacksburg, West Virginia, Billie Tipsword of Lerna, and Martha (Pat) Carr of Villa Grove; grandchildren, Troy (Billi) Tipsword, Jennifer (Eugene) Kropff, Zebediah Lilly, Lucas (Audrey) Lilly, Jessica (Keith) Lilly Davis, Cole (Erin) Lilly, Griffin (Casey Jo) Lilly, John (Amanda) Stroud, Holly (Ryan) Finney, Samuel W. (Christine) Bales, Amie Tipsword, Travis Tipsword, Andrea (fiancé Jared) Kocher, Sydnie Kocher, and Zephaniah Tipsword;
step grandchildren, Deb (Mark) Moschenrose, Richard (Bethany) Finn, Brian (Dawn) Ives, and Debbie (Dwayne) Tigue; twenty-seven great grandchildren; daughters-in-law, Lisa Tipsword and Barbara Tipsword.
He was preceded in death by his parents, Ralph and Winnie Tipsword, brothers, Wallace (Mary Alice) Tipsword, Ray Tipsword and Dan Tipsword; sons, David and Donald Tipsword, grandson, Ben Ashby Lilly; step grandchildren, Glenn Johnson and Shane Finn.
Online condolences may be expressed at www.giesekingfh.com