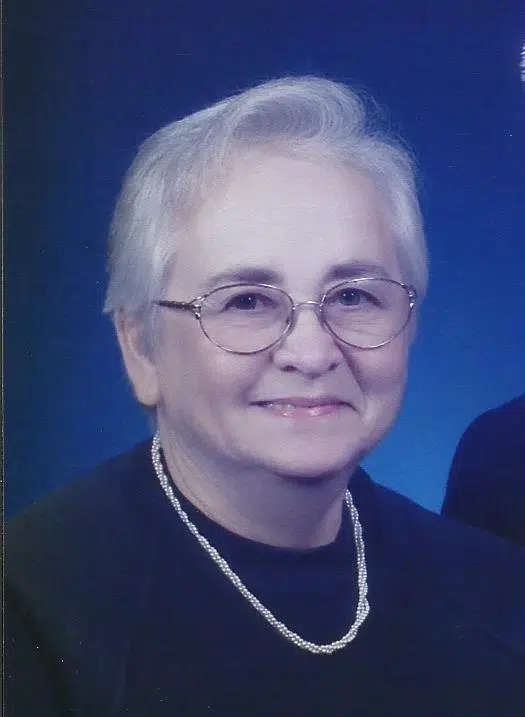 Marilyn Eileen Oger, 77, of Vandalia passed away early Monday morning on November 16, 2015 at Fayette County Hospital.
Services will be held at 2:30pm, Thursday, November 19, 2015 at Hohlt & File Funeral Home, Vandalia with Rev. Fr. Barry Harmon officiating.  Visitation will be held from 1:00-2:30pm prior to services at the funeral home.  Burial will follow in Green Hill Cemetery, Van Burensburg, IL.  Memorials may be made to the American Heart Association.   Arrangements by Hohlt & File Funeral Home, Vandalia.  Online condolences available at
Marilyn Eileen Oger was born to Emmett and Ida (Greenwood) Anderson on December 19, 1937 in Vandalia.  She married William R. Oger December 24, 1958 and had two children Kimberly Anna Mars and Tony William Oger.
She was known for her love of people, especially her grandsons Thomas Braxton Denton and Coda Michael Denton.  She was also known for her big smile and greeting at the Benner-Nawman Telephone Booth Assembly Plant formerly in Vandalia.  She was a loving wife, mother, and grandmother.
Marilyn is survived by her husband William "Bill" Oger, daughter Kim and husband Mike Mars and son Tony Oger all of Vandalia, sister Louella Troeckler of Edwardsville, grandchildren Braxton Denton and fiancé Carolyn Ebbens of Lewisville, TX, Coda Denton of Charleston, John Mars and wife Kelsey of Vandalia, Seth Mars girlfriend Claralyn Luchtefeld of Brownstown, and Jordan Mars of Lake Charles, LA, great grandchildren Aiden and Alayna Mars of Vandalia.
She was preceded in death by her parents and brothers Robert and William Anderson.