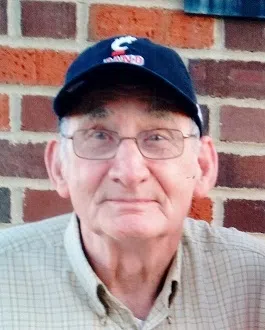 Ray Albert Morris, age 79, of St. Elmo, Illinois passed away at 6:14 p.m. on Wednesday, November 4, 2015 at St. Anthony Memorial Hospital in Effingham, Illinois.
Funeral service will be at 1:00 p.m. Sunday, November 8, 2015 at C & A Pagel Funeral Home in St. Elmo, Illinois with one hour viewing prior to service. Dan Laack of the First United Methodist Church of St. Elmo will be officiating. Visitation will be from 4 to 8 p.m. Saturday, November 7, 2015 at C & A Pagel Funeral Home, St. Elmo. Burial will be at the Sidener Cemetery, rural St. Elmo. In Lieu of flowers, memorials may be made to the Sidener Cemetery or the donor's choice.  Online condolences may be expressed at
Ray was born on January 29, 1936 into a Christian family of Bryon and Jossie- Julius Morris. Ray attended Brownstown High School for two years and then was a 1954 graduate of St. Elmo High School.  He married Letta Lou Smith- Fair on November 11, 1958 in St. Elmo, Illinois, who preceded him in 2005. He was a prior Alderman for the City of St. Elmo. His hobbies included wood working, word puzzles, walking, riding his bike and camping. Ray loved his family and took great pride in their accomplishments. Ray had various jobs and retired from Homann Grain in Altamont, Illinois.  He enjoyed sharing time with friends, family and volunteering. Ray saw the best in everyone and was grateful for the beginning of another new day. Ray always gave of himself first and asked nothing in return. He was admired for his hard work and determination and will be missed by all that knew him.
Ray is survived by his three children, Michael Leon Fair of Hammond, Indiana, Russell Eric Morris (wife Dana Carson) of Altamont, Illinois and Lisa Lynn Morris- Smith (husband Robert) of Cincinnati, Ohio; one sister, Ruby Morris-Taylor (husband Noah) of Altamont, Illinois; four grandchildren, Stefanie Jo Fair of St. Peters, Missouri, Jennifer Rae Fair of Cincinnati, Kevin Rondall Morris (wife Jennifer Williamson) 0f Altamont, Illinois, Jessica Lynn Smith and Rebecca Anne Smith both of Cincinnati; two great grandchildren, Hannah Marie Morris and Kassie Grace Morris both of Altamont, Illinois.
He was preceded in death by his parents, Bryan and Jossie Morris; three brothers, Donald Eugene, John Ivan and Edward Leroy Morris.