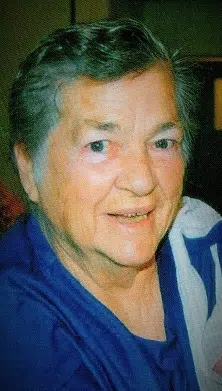 Mary Eleanor Hutt, age 86, of Iola, Illinois passed away at 5:15 p.m. on Thursday, October 22, 2015 peacefully at her home.
Funeral service will be Monday, October 26, 2015 at 1:00 p.m. at the Calvary Apostolic Tabernacle church in Iola, Illinois. Visitation will be from 11:00 a.m. to 1:00 p.m. Michael Durre will be officiating. Burial will be at Iola Cemetery. In lieu of flowers, put your arms around someone and give them what you need to give to me. Online condolences may be expressed at
Mary was born on December 24, 1928 in St. Louis, Missouri, the daughter of Lawrence and Mary (Hall) Carrino. She married Walter Edward Hutt on April 9, 1947 in St. Louis Missouri. She enjoyed crocheting, cooking, gardening, spending time with family and friends, and helping people in need.
She is survived by her five sons, Walter "Terry" Hutt (wife Annie) of Maryville, Illinois, Lawrence Michael Hutt (wife Susan) of Maryville, Illinois, Jim Hutt of Highland, Illinois, Fred Hutt (wife Patti) of St. Jacob, Illinois and Dave Hutt of Maryville, Illinois; two daughters, Sandy Wessels (husband Don) of Caseyville, Illinois and Donna Horath (husband Kevin) of Iola, Illinois; 17 grandchildren, 20 great-grandchildren and 1 great-great grandchild.
She was preceded in death by her parents, Lawrence and Mary Carrino; husband, Walter "Bud" Hutt; five brothers, Lawrence "Red" Carrino, Phillip Carrino, Frank Carrino, Fred Carrino and Jim Carrino and one sister, Lois Uebinger.