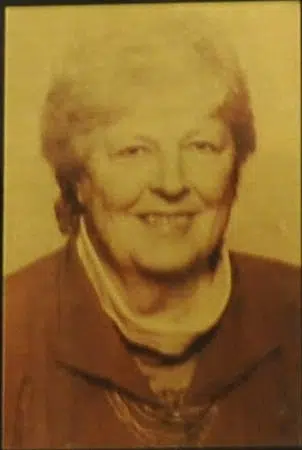 Obituary for Dr. G. Laurene "Laurie" Mabry
Dr. G. Laurene "Laurie" Mabry
Dr. Laurie Mabry passed away on Friday morning October 16, 2015 at the age of 86.
 A graveside service will be held at the Mabry/Reeter family plot at 10:30 am on Saturday October 24, 2015 at the South Hill Cemetery, Vandalia, IL. Friends are invited to join the family at Vandalia Country Club following the service.   In lieu of flowers, please send donations to the Illinois State University Athletics' , mail to Weisebecker Scholarship Fund, Campus Box 2660, Normal, IL 61790-2660 or Vandalia Alumni and Friends Foundation Women's Athletics Programs, mail to Lori Meseke, VCUSD # 203, 1109 N. 8th St., Vandalia, IL 62471. Mark all donations "In memory of Dr. Laurie Mabry".   Miller Funeral Home, Vandalia, IL is in charge of arrangements.  Online memories and condolences may be shared with the family at www.millerfh.net
Laurie was born on August 31, 1929 in Vandalia, Illinois.  She was preceded in death by her father J.E. "Cotton" Mabry, mother Margaret F. (Eller) Mabry, sister Margaret A. "Marcy" (Mabry) Reeter, and brother-in-law Victor E. "Vic" Reeter.
She is survived by her 3 nephews, Charles "Chuck" Reeter, Michael "Mike" Reeter, Scott Reeter and niece, Amy (Reeter) Opfer.   Laurie had 5 great nieces and 3 great nephews and 10 great-great nieces and nephews.
Laurie graduated from Vandalia Community High School in 1947 as the valedictorian of her class.  After graduation, she attended Northwestern University from where she received a B.S. degree in Physical Education.   She eventually received her M.S. degree in Physical Education from Purdue University and her PhD in Physical Education at the University of Iowa.  Dr. Mabry taught Physical Education, coached basketball and golf teams, and was the one and only women's Athletic Director at Illinois State University (ISU) in Normal for 25 years (1960-1985).  Dr. Mabry served as the President of the Association for Intercollegiate Athletics for Women (AIAW) for 2 years, which later became the NCAA.  During that tenure, Dr. Mabry played a key role in authoring and sponsoring the Title IX regulations for equality in women's sports, which were enacted by Congress and signed into law by President Gerald Ford.   Laurie was elected to the Illinois State University Hall of Fame and had received numerous awards in her career.  She was most recently honored with the raising of a permanent banner at ISU's Redbird Basketball Arena.
After retirement, Laurie moved back to Vandalia in 1991, where she loved playing golf and was a member of the Vandalia County Club.  Over the years, she also enjoyed playing cards in various bridge and poker groups.  Laurie was also known for being a loving companion to her cocker spaniels and driving around town in her Cadillac.  For the past 2 years, Dr. Mabry had been a long-term care resident of the Vandalia Rehab and Health Care Center.   "Dr. Laurie", as the nursing staff often called her, was well cared for in her final days.