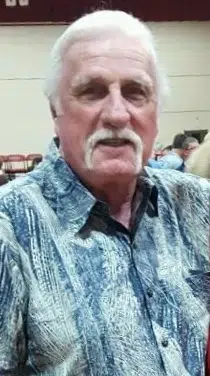 Name:  Larry Dwan Homann, 76 years old of Shumway,
passed away on Tuesday morning, October 13, 2015 at HSHS St. Anthony's Memorial Hospital, Effingham, Illinois.
Funeral Services
will be conducted Saturday afternoon October 17, 2015 at 1:30 PM at the Trinity Lutheran Church in Shumway with the Rev. Tim Hubert officiating.
Visitation for family and friends
will be conducted from 5:00pm-8:00pm on Friday, October 16, 2015at the Kull Funeral Chapel, Altamont, Illinois as well as an hour prior to the service at the church.
Christian Burial Rites
will be at the Trinity Lutheran Church Cemetery, Shumway, Illinois immediately following the funeral service.
Larry Dwan Homann
was born October 14, 1938 in Effingham, Illinois. He was the only child of Howard and Oma Wharton-Homann.  Larry was baptized and confirmed in his faith at Trinity Lutheran Church, Shumway. He attended and was a graduate of Beecher City High School.  Larry married the love of his life, Sarah Rosalie "Rosie" Fulk on August 5, 1967 on the family farm in Moccasin Township. Together, Larry and Rosie were blessed with two children: Richard and Crystal. Larry proudly served his country in the United States Navy as an E-3-AN on the USS Bon-Homme Richard CVA-31. After his discharge, Larry went to work for Caterpillar operating a fork lift for thirty plus years before his retirement. Larry had a true passion for Harley Davidson Motorcycles. He loved to build, work and ride them. He and Rosie enjoyed many vacations together touring on the bike. For the past five years, Larry's focus has been providing, caring for and loving Rosie in her illness.
Larry was an active member of the Trinity Lutheran Church, the Effingham American Legion Post 120, VFW Post 1769, Farm Bureau and the Harley Owners Group. He was a past member of ABATE of Illinois.
Memorials
they may be directed to the Lutheran Care Center, Veteran's Affairs and/or the Donor's Choice.
Casual Dress is Requested by the family.
He is survived by his:
Wife: Sarah Rosalie "Rosie" (Fulk) Homann
Altamont, Illinois
Son: Richard Wayne (wife, Eva Marie) Fulk
Altamont, Illinois
And their daughter: Rachel (Nathan) Pontious
And their children: Austin, Audrianna, Noah, Ashlynn & Jonah
And their son: Derek (fiancé, Michelle Bowling) Fulk
And their daughter: Ashley (fiancé, Brandon Phillips) Fulk
Daughter: Crystal Renee (husband, Carl Michael) Shamhart
Altamont, Illinois
And her daughter: Heather Reed
And their son: Howard Shamhart
Next Page
He was preceded in death by his:
Parents: Howard William Homann
Oma Bernice Wharton Homann
Son: Eric Dwan Homann in infancy
Great-Grandson: Nathan Pontious Jr.
Online condolences may be expressed at