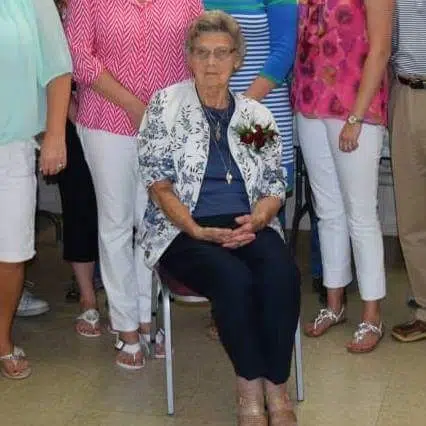 Betty I. McDowell, 90, of Vandalia, Illinois, passed away Tuesday, October 06, 2015, at Vandalia, IL.
Graveside Services will be held at 10:00 AM, Saturday, October 10, 2015, at Fairlawn Cemetery, Vandalia, with Rev. Joe Lawson officiating. Friends and family may gather at the cemetery at 9 A.M. on Saturday. Memorials: Bryan Manor, Centralia, IL. First Christian Church and/or any church of your choice. Miller Funeral Home, Vandalia, IL, is in charge of arrangements. Online memories and condolences may be shared with the family at www. millerfh.net.
She was born July 21, 1925, in Fayette County, IL, the daughter of George D. & Lucinda Caroline (Radcliff) Edwards. Married James W. McDowell on November 02, 1945, St. Elmo, IL, he passed away in 1993. She was Co-owner/operator McDowell Service, Vandalia, IL and was affiliated with First Christian Church, Vandalia, IL.
She is survived by: Sons – Jerry McDowell & Connie, Vandalia, IL, Steven McDowell & Ellen, Louisville, GA and Lynn McDowell & Shelley, Vandalia, IL; Daughters – Connie Chapman & David, Vandalia, IL and Carolyn Powell & Nelson, Brownstown, IL; Brothers – Lawrence Edwards & Louise, Springfield, IL, and Robert Edwards & Ann, Pipe Creek, TX; 16 Grandchildren and 24 Great Grandchildren.
Preceded in death by: Parents; Husband – James W. McDowell; Daughter – Sheryl McDowell and 3 Brothers, Darrell, Larry & Jackie.