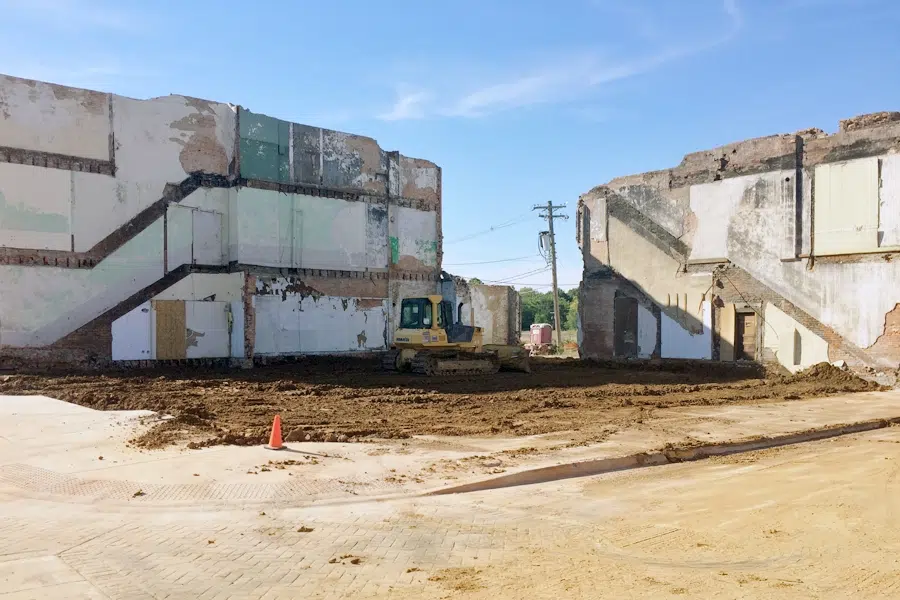 There was a lot of discussion on the downtown property where two buildings were recently demolished at Monday night's Vandalia City Council meeting.  Vandalia Mayor Rick Gottman informed the City Council the 2014 property taxes for the property have not been paid, and asked City Attorney Ryan Conner what that would mean for the city's situation of trying to acquire the property.
Mayor Gottman said his was concern if the property went to an auction because of the unpaid taxes.  But, Conner said he still believed the city's lien against the property would be over and above that.  Mayor Gottman has requested the city get together all of their costs during the project to put together a chart of all their costs to put on the lien against the property.  When asked about the process to acquire the property, Conner said it is a very long process to be able to do. Ward One Alderman Jerry Swarm asked about the city just paying the taxes, and Conner said it would not yield any benefit.
Meanwhile, the issue of the unsightly exposed walls that are now left after the demolition came up.  Mayor Gottman says there are a total of six exposed walls in the downtown—including the former antique building and former YMCA, the walls left from the demolition and the former State Farm building—that need to be address and fixed.  Gottman says he would like to get the owners of all those properties together and come to a consensus on what to do to fix up the walls and then go out for bid all together.  And, Mayor Gottman says it would be something they would use TIF funds for.  Ward Four Alderman Andy Lester brought up the property or ground is beginning to settle and property needs to be address by the contractor, Razmus Demolition. Gottman also mentioned he is asking the property owners with buildings next to the demolition to bring their issues or concerns of potential damage to him so he can address them with Razmus this week. The City was scheduled to make their final payment to Razmus of $93,804.45 but that payment will be held back at this time.