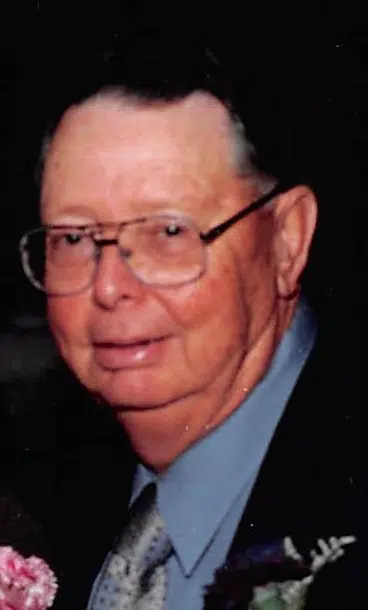 Robert "Bob" Lee Harrison, 86, of Vandalia, passed away at 12:05 p.m. Thursday, August 13, 2015, at Fayette County Hospital, in Vandalia.
Robert was born on September 22, 1928, in Shafter Township, the son of Roy Ernest and Nellie Mabel (Hittle) Harrison.  He previously married Bonnie M. Smith on July 1, 1950, in Vandalia.  He later married Laverne Keppler on December 24, 1980, in Vandalia. They both survive.
He is also survived by a daughter- Sherry (Gary) Blurton of Danville; son- Jerry Harrison of West Hollywood, California; grandson-Matt (Jennifer) Blurton; great-grandchildren-Marcus, Makayla and Madilyn Blurton; four brothers- Kenny Harrison of Vandalia, Richard (Jan) Harrison of Rapid City, South Dakota, Alan (Loretta) Harrison of Vandalia and Keith (Judy) Bess of Decatur; three sisters- Shirley Williams of Vandalia, Joan (Wayne) Connor of St. Elmo and Brenda Adamson of Mattoon; sister-in-law- Doris Harrison of Vandalia; and numerous nieces and nephews.
He was preceded in death by his parents, brother-Larry Harrison, brother-in-law-John Williams and sister-in-law- Betty Harrison.
Robert served in the United States Air Force in 1946-1948, where he was an airplane mechanic in the Philippines.  After the death of his mother, he left the Air Force to come back and help raise his younger siblings.  Robert owned and operated Bob's Body Shop in Vandalia for 26 years.  In 1975, he began working as a correctional officer at the Vandalia Correctional Center, until he retired in 1991.  After retiring, Bob and Laverne spent their summers in Southern Illinois for 8 years doing creole surveys on the area lakes there.  He was a member of American Legion Post 95 Crawford Hale.  Bob loved to spend his time outdoors fishing, hunting, mushroom hunting, camping, gardening or tinkering in his garage.  He also enjoyed going dancing around the Vandalia area.  Bob never met a stranger, any place he would go he would make a new friend.  He loved to share his words of wisdom with you.  His greatest enjoyment was spending time with all of his family and friends.  Nothing made him happier than putting on a big fish fry at his house or campground for everyone to come or just giving someone vegetables out of his garden.  Bob touched a lot of people throughout his life and he was so proud of all of his family.  He will be greatly missed by all who knew him and loved him.
A Celebration of Robert's Life will be held at 3:00 p.m. Wednesday, August 19, 2015, at the Crown Point Church in Vandalia, with Pastor Pete LeDuc officiating.  Burial will follow the services at Greenhill Cemetery in Van Burensburg, with full military honors conducted by the American Legion Post 95.  Visitation will be from 12:00-3:00 p.m. Wednesday at the Crown Point Church.  Memorials may be made to the American Legion Post 95.  The family has entrusted the Blurton Funeral Home to assist them in honoring Bob's life.  Memories or photos may be shared with the family on his memorial page at: