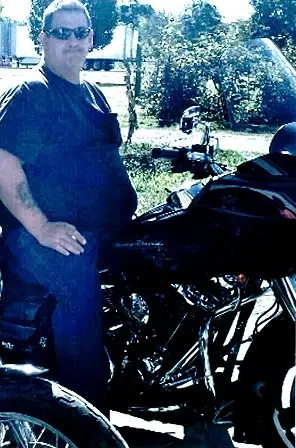 Curtis D. McKinney, age 51, of Edgewood, Illinois passed away at 7:33 p.m. on Saturday, August 1, 2015 in Hamilton County, Indiana on Interstate 69 between state road 13 and Campus Parkway.
Funeral service will be held at 11:00 a.m. Saturday, August 8, 2015 at Pagel Funeral Homes in Edgewood, Illinois. Burial will be at Edgewood Cemetery in Edgewood, IL. There will be a one hour viewing prior to the service.  Visitation will be from 4 to 8 p.m. on Friday, August 7, 2015 at Pagel Funeral Homes in Edgewood. Memorials may be made to ABATE or donor's choice. Online condolences may be expressed at
Curtis was born on December 5, 1963 in Effingham, Illinois. The son of Charles "Mac" McKinney and Laverne "Avy" Shirley. He married the love of his life, Bonnie Yocum on November 23, 2007 in Edgewood, Illinois. He was a member of the American Legion post # 1168 and ABATE. He served in the US Military. He was a truck driver for 28 years and was employed by Harrington Farms. Curt had a love for life and an infectious smile that was contagious. He knew no strangers and never had a loss for words. He had a passion for guns, riding his motorcycle and spending time with his "brothers" and with his loved ones, especially his wife and grandkids. He was always looking for an adventurous fun time on the back of his Harley.
He is survived by his mother, Avy McKinney;  wife, Bonnie McKinney of Edgewood, Illinois; 3 sons, Chris McKinney (wife Jess) of Edgewood, IL., Josh Linder of Edgewood, IL., Jake McKinney (girlfriend Amy Garrett) of Kinmundy, IL; 2 daughters, Tashena Linder (fiancé Justin Wernsing) of Farina, IL, Andrea McKinney of Effingham, IL; brother, Darien McKinney (wife Paula) of Effingham IL.; sister, Leta Condron (husband Ron) of Effingham, IL; 5 grandchildren, Jayden, Payton, and Audrey Linder and Brayden and Hayleigh Wernsing.
He was preceded in death by his father, Charles McKinney.