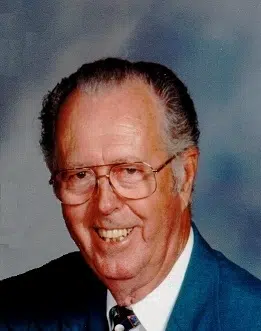 Edward Lane Jr., age 85, of St. Elmo, Illinois passed away at 10:00 p.m. Tuesday, July 28, 2015 at St. Anthony Memorial Hospital in Effingham, Illinois.
Funeral service will be at 11:00 a.m. Monday, August 3, 2015 at The United Methodist Church in St. Elmo, Illinois with a one hour viewing prior to service.  Reverend William Nagy will be officiating. Burial will be at Maplewood Cemetery in St. Elmo, Illinois. Visitation will be on Sunday, August 2, 2015 from 4 to 7 p.m. at C & A Pagel Funeral Home in St. Elmo, Illinois. Memorials may be made to The Frist United Methodist Church of St. Elmo or donor's choice. Online condolences may be expressed at
Edward was born on December 6, 1929 in Hardin County, Illinois, the son of Edward Sr. and Bertha (Winters) Lane. Ed served in the US Army during the Korean Conflict. He was an avid golfer and hunter. He was a member of The First United Methodist Church of St. Elmo and the St. Elmo Golf Club. He retired from Yellow Freight after 20 years.
He is survived by his wife of 45 years, Barbara Lane; 8 daughters, Linda Kraus of Effingham, IL., Karen Rogers of MI, Joyce Mancour (husband Mike) of TN, Nanci Welter of MT, Barbara Fritcher (husband Dennis) of St. Elmo, IL., Ruth Snyder of Rushville, IL., Barbara Lynn Welter of Mason, IL., Carolyn Dickerson (husband Greg) of Peoria, IL; 3 sons, Frank Welter (wife Nancy) of Altamont, IL., Steve Lane (wife Stacy) of IN., William Lane (wife Kim) of Dieterich, IL; 2 brothers, James Lane and Bobby Gene Lane; 2 sisters, Vina Burton and Laverne Austin; 33 grandchildren, 24 great-grandchildren and several nieces and nephews.
He was preceded in death by his parents, Edward Sr. and Bertha Lane; his first wife, Frances; brother, Jim Smith; sister, Betty Hobbs;  two sons-in-law, Mark Rogers and James Kraus; granddaughter, Truly Joy; great-grandson, Joel Edward.