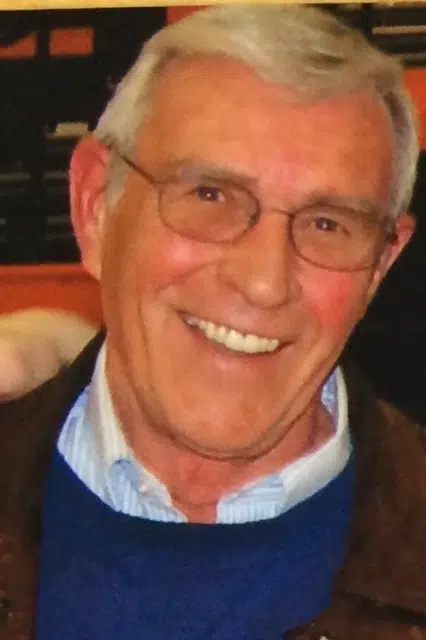 Vandalia – Lawrence Ray Radliff 77, of Vandalia passed away at 9:31 a.m., Thursday, July 23, 2015 at home. 
A service to celebrate Ray's life will be held at 10:00am, Tuesday, July 28, 2015 at  Unity Baptist Church Vandalia, Hwy 185 location (formerly Temple Baptist Church) Burial will follow in Griffith Cemetery Brownstown, Il with military honors.  Visitation will be held from 5:00-8:00pm, Monday, July 27, 2015 at Unity Baptist Church Vandalia, Hwy 185 location and 1 hour prior to services Tuesday. Masonic Services will be held at 7:00pm, Monday, July 28, 2015 at Unity Baptist Church Vandalia, Hwy 185 location.   Memorials may be made to Shriners Hospital for Children or Friends and Families of Fayette County Hospital.  Hohlt & File Funeral Home of Vandalia in charge of arrangements, online condolences available at www.hohltandfilefh.com
Mr. Radliff was born in Fayette County in 1938, one of seven children. He attended schools in Four Mile, Brownstown and Vandalia.  After graduation, he served four years in the United States Air Force, then returned home to attend  Millikin University in Decatur, where he was a member of the 1961 undefeated Millikin University Big Blue football team, receiving a bachelor of science degree in economics and finance in 1964.   He later served on the Board of Trustees for Millikin University.
Upon graduation, Mr. Radliff worked for a family oil business. In 1971, Radliff Drilling Company, an oil exploration and production company, was founded by Mr. Radliff.  In 1977, the business was incorporated. The company sold its equipment in 1994, but still continued to explore and drill wells.
In 1971, Mr. Radliff was appointed to the board of directors of The First National Bank of Vandalia.  Mr. Radliff was elected to the position of president and chief executive office of the bank from late 1987-1990.  He was elected as chairman of the board of directors in 1988 and served through 2010
He was very active in community, political and petroleum related endeavors..  His earlier involvement includes:  President of the Vandalia Jaycees, a two-term member of the City Council, member of the Vandalia School Board, member of the Economic Development Commission and retired member of the Vandalia Fire Department, Moose, Eagles and AMVETS, 51-year member of the Illinois Oil and Gas Association and served as president of the organization from 1975-1977.  In 1972, he was appointed by Governor Walker as the Official Representative of the State of Illinois to the Interstate Oil Compact Commission, rising to Vice-Chairman under Governor Edwards of Louisiana. 
A special interest of Mr. Radliff is the Shriners.  In 2001, he became the Potentate of Ainad temple, which includes all of Southern Illinois. The critical goal of the Shriners is helping children with special needs.  In 2002, he served as Chairman of the Board of Governors of Shriner's Hospital for Children in St. Louis.
Apart from his work and community activities, he has flown hot air balloons and sky-dived.  He enjoyed water and snow skiing, along with boating. He also performed in and drove for the Tom and Larry Holden Thrill Shows.
Mr. Radliff has three sons, Jon, (Mary) of Traverse City, Michigan; Mike, (Robin Lowry) of Vandalia, Illinois; and Bryan, (Lisa Peyton) of Layton Utah.  He has eightgrandchildren and ten great-grandchildren.  Christopher Radliff, (Kristen), of Niceville Florida; Brittney Radliff Whisman, (John) of El Paso, Texas; and Sabrina Radliff of Layton, Utah.  Lauren Radliff Sczurko (Aaron) of O'Fallon, Illinois and Luke Radliff of Chicago, Illinois.  Step-grandchildren Jessica Gapinski; Alicia Myatt; and, Erica Armock.
Mr. Radliff is survived by two sisters, Ruth Dees of Vandalia, Illinois and Lorraine McKee of Indianapolis, Indiana.  He was preceded in death by his parents Vivian and Eva (McMillan) Radliff; brothers Carole, Troy and Charles and sister Gail Mottern.