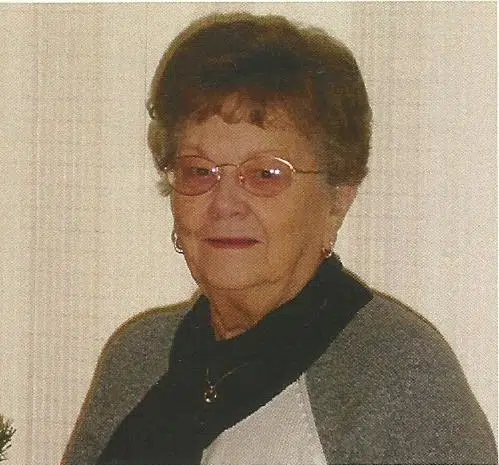 Dolores Alice Thoman, 85, of Vandalia, passed away at 6:15am, Saturday, July 11, 2015 at her home.
Services for Mrs. Thoman will be held at 10:00am, Wednesday, July 15, 2015 at Holy Cross Lutheran Church, Vandalia with Pastor Jerry Bagwell officiating.  Visitation will be held from 5:00-8:00pm, Tuesday, July 14, 2015 at Hohlt & File Funeral Home, Vandalia and 1 our prior to services at the church Wednesday.  Burial will follow services at McInturff Cemetery, rural Vandalia.  Memorials may be made to Fayette County Relay for Life or Holy Cross Lutheran Church.  Online condolences available at www.hohltandfilefh.com
Dolores was born March 23, 1930 in Shobonier, the daughter of William and Jennie (Edwards) Wolfe.  She married Robert "Bob" Thoman June 25, 1949 in Vandalia; he preceded her in death December 9, 2003.  Dolores worked as a secretary/bookkeeper for the City of Vandalia Water Department for 25 years and was co-owner of Thoman Photography for 50 years, and was a member of Holy Cross Lutheran Church.
She is survived by her children, daughter Brenda (John) Daniels of Vandalia, son William Thoman of Swannonoa, NC, daughter Sue (Carl) Sieveking of Branson, MO, son Ed (Melinda) Thoman of Patoka, and son Todd (Holly) Thoman of Mattoon; grandchildren Tammy (Brian) Duty, Kelly (Rich) Lehn, Erin (John) Scott, Beth Spencer (partner Zack Quarles), Abbey Kruenegel (fiancé Jeff Risalvato), Robyn (Jeremy) Weh, Bob Thoman,  Katie Thoman, Cassie Thoman, and Dylan Haugh; great grandchildren Kolten, Seth, Brayden and Tate Duty, Ryan Lehn, Ethan and Miles Scott, Nick, Hannah and Devin Weh, and Veyda and Gemma Shirley.
She was preceded in death by her parents and husband.