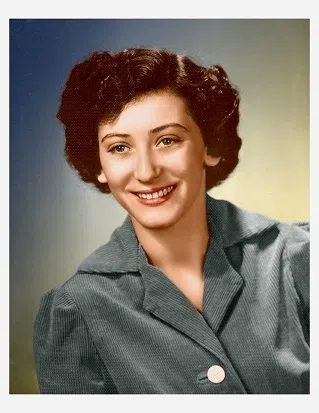 Lucille Eleanor Owen Dycus died peacefully at 8:10 a.m. Monday, July 6, 2015 at St. Anthony Memorial Hospital, Effingham, IL.
Funeral services will be at 2:00 p.m. Wednesday, July 8, 2015 at the United Methodist Church in St. Elmo, Illinois with one hour viewing prior to service. Pastor Dan Laack will be officiating. Burial will be at Maplewood Cemetery. In lieu of flowers, contributions may be made to the scholarship fund of the Brownstown Community School Foundation, 102 Slate Creek Avenue, Effingham, IL, 62401, Attn: Joe Sefton). Online condolences may be expressed at
Lucille was born on December 6, 1925 in Avena Township to Willard and Lena (Fair) Owen. She was a descendant of many Fayette County pioneer families. She was married to George Lyle Dycus on March 4, 1944.
She attended several Fayette County rural schools in the St. Elmo area and was a 1943 graduate of Brownstown Community High School. She later attended Lake Land College and received an Associate in Science degree in 1984.
While her children were in school, Lucille was active in the Brownstown Parent-Teacher Association, holding several offices and later serving in regional PTA positions. She was a member of the Brownstown United Methodist Church and later the St. Elmo United Methodist Church. She was a member of the Brownstown Church volunteer choir for many years. Lucille was a member of the Order of the Eastern Star, the Friendly Neighbors and the Fayette County Home Extension.
In 1967 Lucille bought the former drug store in St. Elmo, which she operated as St. Elmo Sundries for 35 years. She was an avid gardener at the Dycus farm in Sefton Township and later at two homes in St. Elmo. In recent years she was a resident of Aperion Care St. Elmo.
Lucille is survived by her children, Gary Lyle, George Allan, Norma Jean, Beverly Ann and one brother, Eugene Owen; five grandchildren; seventeen great- grandchildren and two great-great grandchildren.
She was preceded in death by her former husband, George Lyle Dycus and one grandchild.