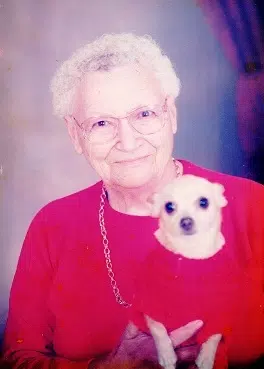 Beulah Love Edwards, age 94, of St. Elmo, Illinois passed away at 1:12 a.m. Sunday, July 05, 2015 at Aperion Care Nursing Home in St. Elmo, Illinois.
Funeral service will be held on Friday, July 10, 2015 at 11:00 a.m. at C&A Pagel Funeral Home in St. Elmo, Illinois. Neva Carter will be officiating. Burial will be at Maplewood Cemetery in St. Elmo, Illinois. There will be a one hour viewing prior to the service. Memorials may be made to the donor's choice. Online condolences may be expressed at
Beulah was born on June 12, 1921, the daughter of George and Susie (Carter) Leach in Bement, Illinois. She was a member of the Royal Neighbors of America in St. Elmo, Illinois. She enjoyed playing the piano and organ at the nursing home, she also loved turtles and gardening.
She is survived by her 8 grandchildren, Jess Willis (husband Charles) of Sullivan, Illinois, Robin Nichols (husband Lonnie) of Shelbyville, Illinois, Valerie Spencer of Charleston, Illinois, Jason Edwards (wife Angela) of Strasburg, Illinois, Kevin Edwards of Strasburg, Illinois, Sandy Graber (husband Alan) of Morrsville, Indiana, Sue Edwards (boyfriend Russ) of Sullivan, Illinois, Larry Edwards (wife Heather) of Sullivan, Illinois; 18 great-grandkids, Charlie Willis, Cody Margenthaler, Tyler Nichols, Breanna Margenthaler, Braden Nichols, Amanda Willis, Noah Spencer, Karson Spencer, Riley Nichols, Kirk Graber, Konner Graber, Kami Graber, Alley Graber, Jakob Veil, Lilly Agll, Sidney Edwards, Haley Morgan, Katlyn Edwards and one great-great-grandchild, Bentley Edwards.
She is preceded in death by her parents, George and Susie Leach; two sons, Keith and Dennis Edwards; daughter-in-law, Georgia Edwards