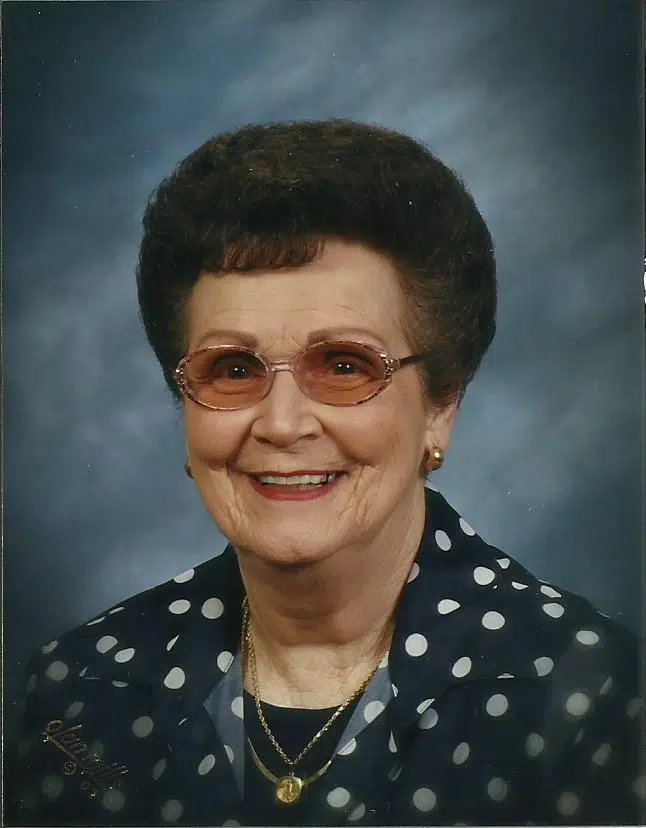 Dolores "Doad" Bone, 86, of Vandalia, passed away on July 1, 2015 at St. Luke's Hospital, St. Louis, MO.
Services will be held at 11:00am, Monday, July 6, 2015 at Unity Baptist Church formerly First Baptist Church of Vandalia (6th street location) with Rev. Robert Weaver officiating.  Visitation will be held from 9:00-11:00am, Monday, also at the church.  Burial will follow in McInturff Cemetery, rural Vandalia.  Memorials may be made to Unity Baptist Church of Vandalia.  Arrangements by Hohlt & File Funeral Home, Vandalia, online condolences available at www.hohltandfilefh.com
Dolores was born July 26, 1928 in Vandalia, the daughter of Cameron and Nellie (Boggs) Withers.  She married Mendell Bone on December 24, 1947 in Vandalia; he preceded her in death on May 18, 1984.  She was a member of the First Baptist Church of Vandalia now know as Unity Baptist Church. Doad worked for the family business, Bone Brothers Trucking, as a bookkeeper.  She was also a lunchroom cashier for Vandalia School District for 26 years.
She is survived by three sons Roger Bone and wife Kim of Aberdeen, NC, Randy Bone and wife Kellie of Vandalia, IL and Robin Bone and wife Robyn of Camdenton, MO; sisters Mary Hanradt of Belleville, IL and June Sphar of Decatur, IL; grandchildren Julia, Ryan, Renee, and Andrea Bone, Samantha Colic and Jamie Bone, Travis Bone and Cindy Bone; and eight great grandchildren.
She was preceded in death by her parents, husband, son William Bone, brothers Rodger and William Withers, and sister Betty Montgomery.