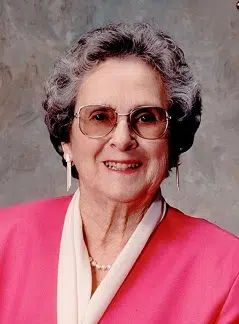 Vivian "Vicki" Juanita Sinclair, age 95, of St. Elmo passed away at 8:51 p.m. on Thursday, June 18, 2015 at her daughter's home in Effingham, Illinois.
Funeral services will be held at 11:00 a.m., Monday, June 22, 2015 at C & A Pagel Funeral Home in St. Elmo, Illinois with a one hour visitation prior to the service. Burial will be in Maplewood Cemetery in St. Elmo, Illinois. Memorials may be made to the St. Elmo Library or the donor's choice. Online condolences may be expressed at www.pagelfuneralhome.com
Vicki was born April 17, 1920 in Palestine, Illinois, the daughter of Noel and Edith (McNary) Nelson. She married Joseph Sinclair on June 20, 1947 in Palestine, Illinois and he preceded her in death on January 13, 2013.
She graduated Palestine High School and attended Eastern Illinois University. Vicki began a career in education with two years teaching in Palestine, 1941- 1943. She also taught in Decatur and St. Elmo Illinois. She holds a Master's Degree in Education, plus a Library Certificate. In 1964 – 1965 she organized and implemented one of the state's first Title I reading programs. Although retiring from teaching in 1981, she has since set up a reading program in the school system and served as Librarian for one year.
Vicki was a member the St. Elmo United Methodist Church in St. Elmo, Illinois and a member of the St. Elmo Golf Club, Women's Auxiliary, Kappa Pi Fraternity and Teacher's Association IEA and NEA. For recreation and hobbies she enjoyed friends, reading, golfing, genealogy and running around.
She is survived by sons, Ronald Ashley Sinclair of St. Elmo, Illinois and Gerald Nelson Sinclair (wife Paula) of Seymour, Indiana; daughter, Cynthia Jo Weidman (husband Kent) of Effingham, Illinois; ten grandchildren and eighteen great-grandchildren.
She was preceded in death by her parents, Noel and Edith Nelson; husband, Joseph Sinclair; brother, Leo Nelson; daughter-in-law, Carol Logue Sinclair and great-grandson, Andrew Tharp.