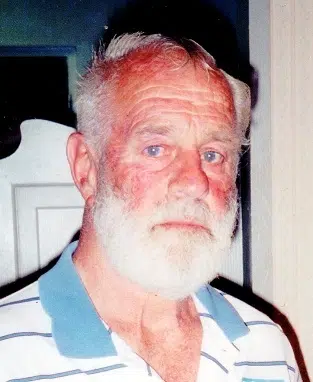 Dean Anthony Harpster, age 82 of St. Peter, Illinois passed away at 10:20 p.m. Thursday, June 11, 2015 at St. Anthony Memorial Hospital in Effingham, Illinois.
A private graveside service with military rites will be on Friday, June 19, 2015 at the Old Loogootee Cemetery. Elder Willie Huffine will be officiating. Online condolences may be expressed on www.pagelfuneralhome,com
Dean was born on July 28, 1932 in St. Peter, Illinois, the son of Ora and Fern (Pryor) Harpster. Dean married Patsy S. Gillett on June 1, 1962 in Fairview Heights, Illinois. He was a member of the Mt. Nebo Primitive Baptist Church in Greenville, Illinois. Dean was a lifelong resident of St. Peter and served in the United States Navy for five years during the Korean War. In his life time, he was a carpenter, welder and a farmer. He enjoyed spending his time gardening, splitting wood, listening to country music and watching old western films. He also loved horses and spending time visiting with his grandchildren.
Dean is survived by his wife of 53 years, Patsy Harpster of St. Peter, Illinois; two sons, Marshall Harpster (wife Renea) of St. Peter, Illinois, Wayne Harpster (wife Shelley) of St. Peter, Illinois; one daughter, Patty Edwards (husband Doug) of Xenia, Illinois; nine grandchildren and six great grandchildren.
He is preceded in death by his parents, Ora and Fern Harpster; one sister, Donna L. Pegram and one brother in law, Bud Pegram