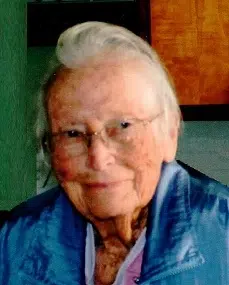 Agnes Lucille (Rieman) Bushue, age 87, of Norris City, Illinois passed away at 1:45 a.m. June 13, 2015 at Hamilton Memorial Hospital in McLeansboro, Illinois.
Funeral services will be held at 11:00 a.m. on Wednesday, June 17, 2015 at St. Ann Catholic Church in Edgewood, Illinois. Burial will be at St. Ann Cemetery, Edgewood, Illinois. Visitation will be from 9:00 a.m. till 10:45 a.m. at Pagel Funeral Home, Edgewood, Illinois prior to service. In lieu of flowers, memorials may be made to donor's choice. Online condolences may be expressed at www.pagelfuneralhome.com
Agnes was born on March 21, 1928, in Effingham County, the daughter of Joseph D. and Rosa A. (Schabbing) Rieman. She lived most of her life in Norris City, IL. She married Charles E. Bushue on November 5, 1949 at Green Creek Catholic Church and he preceded her in death on August 13, 2004. She was a farmer's wife, who enjoyed gardening, cooking and collecting arrowheads.
She is survived by her brother; Richard Rieman of Teutopolis, Illinois; Sister-in-law, Marlene Rieman of Wheeler, Illinois and many nieces and nephews.
Preceded in death by her parents, Joseph and Rosa Rieman; brother: Louis Rieman and one brother in infancy; Sister, Clara and brother-in-law, Roy Painter.